Kioxia's new enterprise drives are already approaching the limits of a PCIe 5.0 x4 interface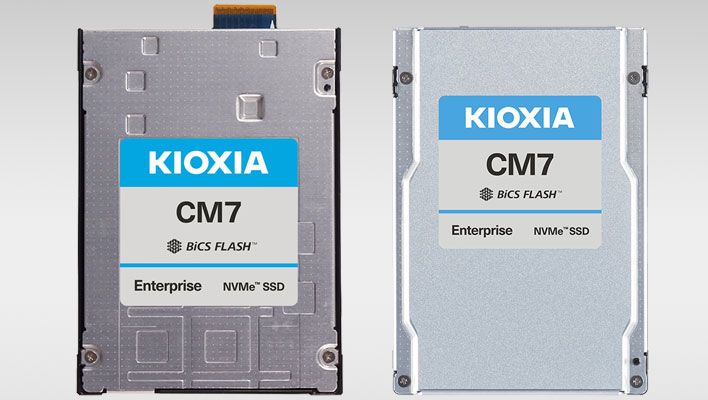 Kioxia's CM7 PCIe 5.0 enterprise SSDs are now shipping to customers. The new SSD is already approaching the maximum possible throughput of a PCIe 5.0 x4 interface with a read speed of nearly 14 GB/s. Due to these almost futuristic specs, these drives give us a taste of what's to come. (opens in a new tab) for the consumer segment. We'll see plenty of drives around that 14GB/s mark over the next few years.
There are two CM7 readers, the CM7-V and the CM7-R. The CM7-V is a mixed-use version designed for up to three disk writes per day. It is available in capacities ranging from 1.6TB to 12.8TB. The CM7-R is a read-optimized drive available in capacities ranging from 1.92TB to drool-worthy 30.72TB.
These drives are designed for the enterprise market and will no doubt be very expensive, especially the higher capacity versions. They are intended for use with AMD's "Genoa" and Intel's "Sapphire Rapids" Xeon Scalable platforms, both of which support PCIe 5.0.
The drives are available in traditional 2.5-inch form factors as well as the newer EDSFF form factor. It stands for Enterprise and Data Center SSD Form Factor. The enterprise SSD market is expected to shift to this new form factor over the next few years.
Interestingly, the drives are already shipping, as PCIe 5.0 systems are still not available. That's it for you and me. The drives are likely in the hands of OEMs or customers who use them for validation purposes before new systems are ready for deployment.
From a consumer and gaming perspective, the output of 14GB/s drives is impressive, but ultimately irrelevant to most of us. It's nice to have really fast sequential speeds, but how much data do you think you can transfer at once? Consumer X670 (opens in a new tab) or Z790 (opens in a new tab) platforms will not have enough PCIe 5.0 lanes to support multiple drives to maintain these types of speeds. The Z790 could do that if manufacturers choose to configure a card with one PCIe 8x slot and two M.2 4x slots, but that's a story for another day.
Personally, I'd rather have multiple PCIe 5.0 x2 drives that can still hit 7GB/s while delivering all the responsiveness, low latency, and random performance of x4 drives.
This is unlikely to happen however. Disk manufacturers will continue to focus on sequential transfer speeds for marketing reasons, even as they become increasingly meaningless. For most mainstream users anyway. A PCIe 5.0 x16 expansion card with four drives would still make you smile!
Still, Kioxia CM7 drives should work just fine. 14 GB/s sounds good, but I'd like to see how it performs on a wide range of workloads. Random performance is essential for servers.
When can I fit a few 30TB drives into my NAS? It will be years from now. And actually, I know I won't be able to afford them, so I'll drop that thought…for now.