Hisense announces 65-inch gaming TV with insane 4K 240FPS and HDMI 2.1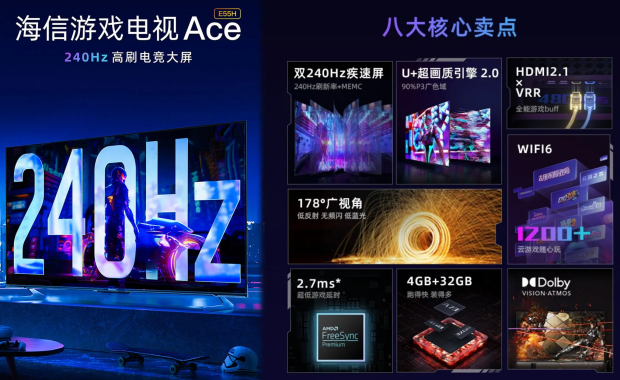 Hisense has just announced its next-gen 65-inch gaming TV, designed for next-gen enthusiast-level gaming with native 4K resolution and an insane 240Hz refresh rate.
SEE THE GALLERY – 3 IMAGES
The new Hisense Gaming TV Ace 2023 features a 65-inch 4K panel, 240Hz refresh rate and quad-core ARM Cortex A73 processor with 4GB of RAM and 32GB of internal storage . Display connectivity is driven via an HDMI 2.1 port, but there are also 2 HDMI 2.0 ports. If you want that massive 4K 240Hz quality, you'll need HDMI 2.1 connectivity and a PC with an NVIDIA GeForce RTX 30-series GPU or AMD Radeon RX 6000-series GPU.
Hisense's new 2023 Gaming TV Ace will only stream 4K 240Hz to the PC with the correct GPU, while next-gen console owners with a Sony PlayStation 5 or Xbox Series X/S will then enjoy the up to at 4K 120Hz. The ULED-based panel has 1.07 billion colours, viewing angles up to 178 degrees, Wi-Fi 6 and Ethernet connectivity too.
The best piece? Hisense's insane 65-inch 4K 240Hz gaming TV will cost less than $900… available in China for around 5499 RMB (equivalent to around $865 USD). It will be interesting to see if it makes it in the US, as the OS would need some tweaking to bring it to English.