GEEKOM MiniAir 11 Mini PC Review: Better than Intel Nuc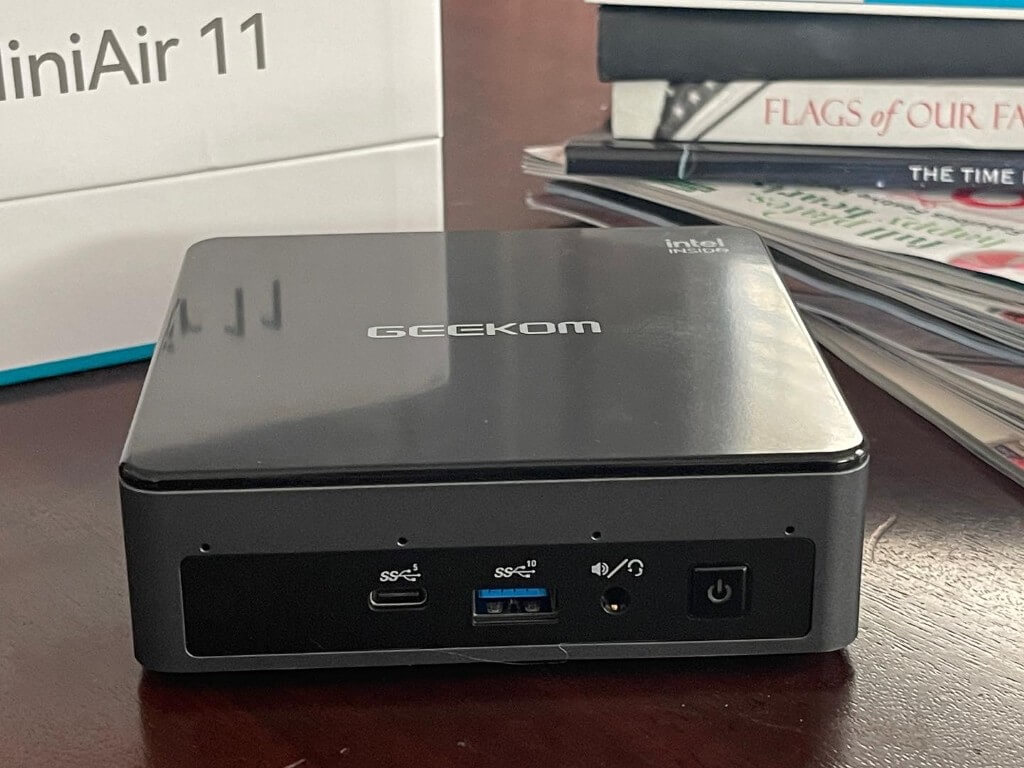 If you're looking for a mini PC for your setup that doesn't have a lot of space, you're probably familiar with products from Intel NUC, Minisforum, and Beelink. Recently though, a new Chinese brand has emerged to shake things up a bit and bring similar products to a wider global audience.
GEEKOM already sells PC products, gaming laptops, and computer accessories, but they recently sent me the MiniAir 11 Mini PC for review. After using this budget mini PC for a week, I feel like when faced with an Intel NUC, it really is a cost effective and capable system. And all this for the price of $279,
Specifications and prices
The unit I am reviewing is now available on the GEEKOM website. It is configured with an 11th generation Intel Celeron N5095 processor. It's paired with 8GB of DDR4 RAM, along with a 256GB M.2 PCIe SSD. Note that this Intel CPU has 4 cores, 4 threads, and a 2.90 GHz turbo boost, running at 15 watts.
The operating system under the hood is Windows 11 Pro. GEEKOM also mentions on the product list that you can install Linux, Android x86, Ubuntu, and FydeOS, if you wish. I don't see why you would. That's because, going back to my title, the GEEKOM MiniAir 11 offers a lot of Windows value for the price. If you're looking for a Windows 11 Pro PC, you'll probably have to spend upwards of $400 for something from Beelink or another mini PC maker.
And, if you buy an Intel NUC and other building kits of your own Mini PC, you will have to pay $300 for a Windows 11 Pro license or a Windows 10 Pro license. Pre-built NUC Mini PCs with Windows included, meanwhile, cost nearly $800. The GEEKOM MiniAir 11 is cheaper than a Windows 11 Pro license alone, and you get a complete computer. That's even cheaper than Intel's NUC 11 Essential Kit, which has similar specs but doesn't come with a Windows license or hard drive and RAM.
Note that GEEKOM is quite nice with its packaging. You get the system, an HDMI cable, a Mini Displayport to HDMI adapter, the VESA mount, and a storage bag. Everything is in the box.
Design
The GEEKOM MiniAir 11 is designed very similar to an Intel NUC. It has an ultra-thin and space-saving design. If you're wondering about the dimensions, it measures 117 x 112 x 34.2mm. It is 4.60 x 4.40 x 1.3 inches. The weight is 500.3 grams or just under 1.1 pounds. For reference, an Intel NUC measures 117 x 112 x 37mm. Overall, it's very portable, and GEEKOM even includes a carrying bag for you. I've included my Mac Mini as the photo above, just to show how compact this device is.
In other areas of design, the upper part of the GEEKOM MiniAir 11 is made of plastic. You can remove it to expose the built-in silent fan. The chassis is reinforced with a metal inner frame, which gives this mini PC a premium feel. It's different from Beelink's U59, which is all plastic. And it's similar to an Intel NUC, which has the same reinforced metal frame.
If you want, you can also upgrade the GEEKOM MiniAir 11. This is built into the design. Simply unscrew the feet at the bottom and remove the lid. You have full access to RAM, as well as the M.2 SSD. It reminds me of the Intel NUC, which has great scalability. However, the processor cannot be changed, unlike some Intel NUC models.
Ports
The GEEKOM MiniAir 11 has a ton of ports. Up front, the mix includes a USB-C port (data only), USB 3.2 Gen 2, and a speaker/headphone combo. The right side has a Kensington security lock and the left side has a full size SD card reader. The back is where all the other ports are. There's a mini DisplayPort, Ethernet, 2 USB 3.2 Gen 1 ports, a USB-C port for data only, and an HDMI port.
Note that the GEEKOM MiniAir 11 also has built-in wireless LAN, so you can connect to the Internet without cables. There's even built-in Bluetooth. These ports are even different from the similar system of Beelink. The Beelink U59 Mini-S has USB-A and HDMI, but no USB-C.
Performance
Powered by the 11th Gen Intel Celeron N5095 processor, the GEEKOM MiniAir 11 is an excellent system for office work and productivity. I usually don't like to mention Geekbench numbers in my reviews, but I will in this case so I can back up my experience with multitasking and office work.
The device scores 621 Single-Core and 1979 Multi-Core on Geekbench 5. For comparison, a system like the Surface Go 2 with an Intel Core m3 processor scores 579 Single-Core and 1445 Multi Core. So the Intel Celeron inside here is definitely on par with a mobile processor and is good for the form factor and price you're paying.
You might think these numbers are poor, but I was actually able to run a lot in my daily workflows on the GEEKOM MiniAir 11. I had about 6 tabs open in Microsoft Edge, Microsoft Teams, and apps system like the webcam, Office apps as well as the Microsoft Store, and the GEEKOM MiniAir 11 handled it well.
Considering it's powered by a low-end Intel Celeron processor, I was quite surprised at how efficient it was for office and web browsing, and the speedometer score of around 70 can attest to that. Usually, a score of 100 is what we get on most Windows systems, so considering the value, a score of 70 isn't too bad.
Thanks to Windows 11 Pro, I even connected the GEEKOM MiniAir 11 to my network and ended up using it as a remote PC for my iPad Pro, so I could get Windows 11 on my iPad and access Windows apps that my iPad can't run.
As for gaming, GEEKOM is quick to mention on the product listing page that this is not a gaming system. I tried testing Minecraft on the device, and it has ran just under 30 frames per second. Again, if you're into gaming, GEEKOM's other mini PCs are worth considering. It's not meant to be a gaming PC, though it can work well as a cloud gaming system or remote server when plugged into the back of a monitor or TV.
Great value
Overall, I'm very impressed with the GEEKOM Mini Air 11. This system offers excellent value for money and performs excellently for office work and many daily tasks. Combined with the fact that you get Windows 11 Pro full and activated right out of the box, this is a mini PC that's hard to turn down for the price, and something Intel's NUC should keep an eye out for.
You can buy the GEEKOM Mini Air 11 here.
Share this post: